You know I love romance (
if not, see here
). And although I don't need an excuse to wax poetic about my favourite fictional romances, I'm happy to have an excuse (however contrived) to share them. As a lead up to Valentine's Day, I thought I'd start with a few of my favourite movie romances. Below are a selection of oldies, but really, really, goodies that you may not be familiar with. Feel free to share your own in the comments section.
1.
Valley Girl
(1983): Probably the first time I fell in love with Nicolas Cage. Definitely not the last. Punk rocker meets Valley debutante. Typical boy meets girl, boy loses girl story ensues. Very sweet and very silly. One of the BEST last scene songs of all time (Melt With You - Modern English).
2.
Same Time Next Year
(1978): Alan Alda and Ellen Burstyn grow old, together and apart, in this sometimes bittersweet love story of marriage and infidelity. Alan Alda was my first crush.

3. The Terminator (1984): Okay, so this one is not so obscure. But the love story between Sarah and Kyle made a big impression on me as a teenager. I recall declaring I would name my firstborn Kyle or Reese in tribute (I didn't). Also the first great sex scene I remember. I had a VCR - there was a lot of rewinding.
4.
Made in Heaven
(1987): Best known for the strange cameo appearance by Debra Winger, Made in Heaven is a love story about reincarnation and love at first sight. It's a painful and sometimes very sad story, but the message is ultimately uplifting. The ending still gives me goosebumps.
5.
The Age of Innocence
(1993): This movie broke my heart. Aside from the luscious cinematography, it's a sad story of unrequited love, duty, and how our actions shape our destiny. Have never found Daniel Day Lewis more attractive.
6.
About Last Night
(1986): The first R rated movie I snuck into as a teenager. A gorgeous Rob Lowe and fresh faced Demi Moore struggle as a young couple trying to figure out how to have a grown up relationship.
7.
Peggy Sue Got Married
(1986): See? More Nicolas Cage. And Kathleen Turner. Another favourite of mine. This sometimes weird and funny story has become more poignant for me as I get older. What would you do differently if you had a
chance to do it all again?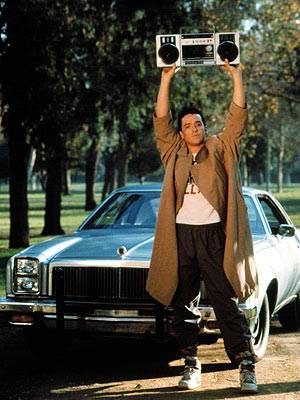 8.
Say Anything
(1989): Okay, okay, you know this one too, but if you've never actually seen the movie and just know about this scene, do yourself a favour and watch. Lloyd Dobler is the penultimate teenage boy in love; passionate, awkward, and full of grand gestures. Great performance by Lily Taylor as a young woman who does nothing but write sad songs about her ex-boyfriend Joe.
9.
Sixteen Candles
(1986): There are far more funny than romantic moments in this movie, but the ending has always been a favourite of mine. Again, a very sweet song for the final scene (If You Were Here - Thompson Twins).
10.
Romancing the Stone
(1984): The brilliantly funny story of a romance novelist who leads a fairly staid life until she has to rescue her sister from thugs in Columbia. There she meets the dashing rogue, Jack Colton, who may or may not be after the ransom. No insta-love here, this romance takes awhile to heat up, but when it does it's fiery.